Incredible, right? Are you ready to get started?
Well, before I reveal where to get this special hydrolyzed collagen, so you can begin experiencing the results you heard about today, you need to understand…
The "catch" to collagen's astonishing benefits…
After learning how collagen can literally turn back time in your body, you might be wondering if it's too good to be true. To be frank, there is some bad news.
Think right now about all the parts of your body you've learned will soak up the collagen you take:
All the bones in your arms, legs and torso…
All your connective tissues supporting your muscles…
Every single inch of your skin…
…The bottom line is, no teeny-tiny pill is going to contain enough collagen to cover everything.
Think of it like you're wandering in a desert, dying of thirst… and you come upon a single thimble full of water.
As nice as that is, it won't save you.
Same thing with collagen.
Which means…
Any company trying to sell you collagen in a pill is committing a scam I call "fairy dusting"
They're putting a fantastic ingredient into a product so they can brag about it on the label… but you never get enough of the product to actually help rebuild your joints or revitalize skin.
I'm afraid some itty-bitty pill will never be enough…
Not a chance.
And if a company DID put enough collagen in pill form… you would have to choke down half a dozen horse pills per day, minimum!
So what's the solution?
The secret is contained in this glass: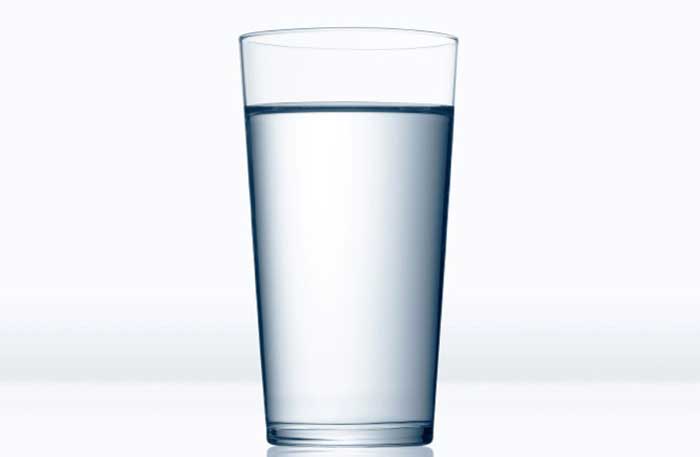 Can you see it?
Probably not, even if you look closely.
I just took an ordinary glass of water, and mixed in the newest formulation from Gold Leaf Nutritionals, called RenewGen™.
RenewGen consists of the highest-quality hydrolyzed collagen in powder form.
It's virtually:
Tasteless…
Odorless…
Easy to mix…
Easy to digest. (It can even improve your digestion.)
And it conveniently delivers you the daily supply of hydrolyzed collagen you need to soothe your joints (and have firmer, younger-looking skin).
Japanese scientists gave it to volunteers and tested how fast this collagen absorbs into your bloodstream.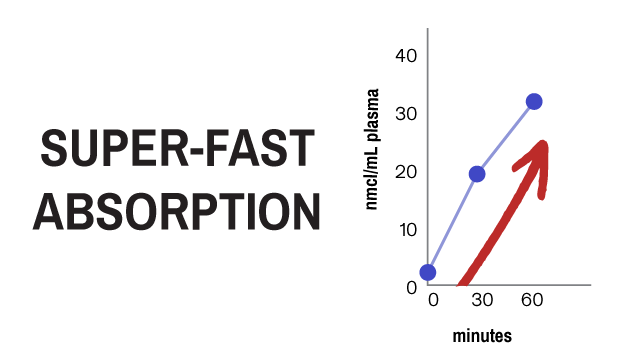 They confirmed this bovine-based collagen delivers the joint- and skin-healthy amino acids straight to your bloodstream, where your body can absorb and use them…
…beginning in less than one hour!
You can mix RenewGen into any liquid: coffee, juice, milk or water.
You can also add it to smoothies, soups and stews, or even add it to many of your favorite recipes!
Because it's been hydrolyzed, the collagen dissolves into the liquid nearly instantly, with just a couple stirs of your spoon.
No pills and no chalky powder to choke down.
Plus, this is the best quality collagen I've ever found. It's natural and free from any additives or preservatives.
It's also non-GMO.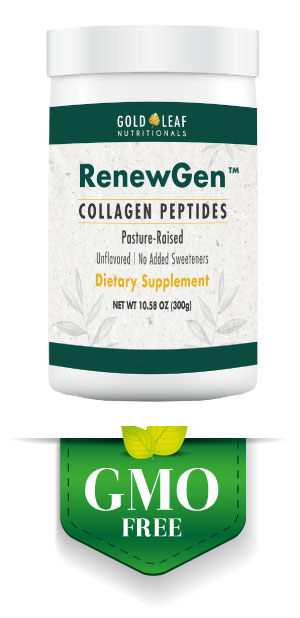 The hydrolyzed collagen in RenewGen is packaged in an NSF-certified GMP-compliant facility right here in the United States.
But that's not all.
In order to ensure this formula delivers to you everything we promise, we had it tested by an independent laboratory. They confirmed RenewGen is pure collagen.
Has any other nutritional supplement company shown you test results like this?
Chances are they haven't, and the reason why is simple:
They haven't actually bothered to do the testing.
Who knows if their powders are nothing but chalk, or what other nasty stuff could be lurking inside?
But with RenewGen from Gold Leaf Nutritionals, you can be sure you're getting the very best.
In fact, here's a complete breakdown of the joint-healthy amino acids it contains: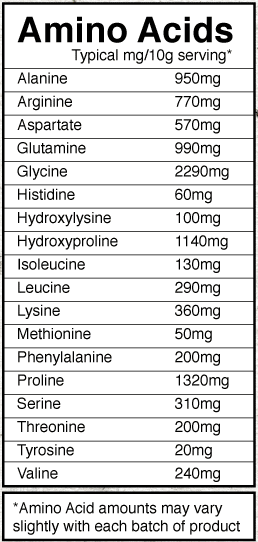 I recommend mixing RenewGen in water and drinking it right before bed.
Studies have shown one of the amino acids it contains — glycine — reduces daytime fatigue and sleepiness when taken the night before.
Personally, I've found this to be true. Nighttime collagen relaxes my mind and washes away daytime stress.
Plus, it just feels good to realize you're…
Regrowing your joints and erasing
your wrinkles as you sleep!
Now you know the secret. And it's time to take the next step.
In this presentation, I've revealed how the hydrolyzed collagen in RenewGen literally helps rebuild your joints from the inside out, so they feel brand new.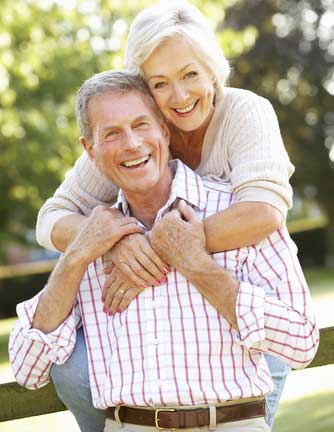 But that's just the beginning. Collagen also works like a miracle for your…
Hair…
Skin…
Muscle tone…
Metabolism…
Blood sugar…
And perhaps even how long you live…
It's the most important thing you can do for your joints… and your overall health.
And you've learned how average men and women, authors, doctors and even professional athletes are taking advantage of this nutrient.
If you're dragging, aching and frustrated with how your joints are holding you back, and you're sick and tired of solutions that just plain don't work…
I say to you…
"Join us!"
It starts with the choice you're facing now:
You can continue along the same path, your body's collagen production grinding down slower and slower, with your joints suffering as a result.
Or you can make the decision to try out RenewGen.
For less than the cost of a bottle of water a day, this powerful breakthrough can start working its magic… revitalizing your joints and skin from the inside out.
Your production of collagen plummets around age 40. But what if you got it back?
How would it feel to have the same strong joints you had in your 30s?
With RenewGen, you don't have to resign yourself to feeling more aches and pains year after year…
You don't have to put up with feeling more and more tired…
…and you don't have to accept looking and feeling old!
Once you give your body this special nutrient, you'll dial back the years on how you feel…
…starting in the deepest crevices of your joints… then all the way to your skin and hair.
Imagine taking collagen before you go to bed… sleeping better throughout the night... and then, one day very soon…
You'll have your magic moment.
It's when you wake up in the morning and… instead of seeing a tired-looking face in the mirror, your skin looks smoother and suppler than before!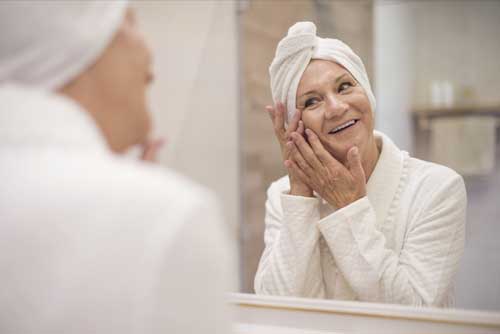 Then, when you walk down those stairs… you pause at the bottom and realize, "Hey, I didn't feel any aching. That was EASY!"
You bound right back up them again and still feel great. Then you start to think…
"What fun, exciting things do I want to do now that my joints feel young again?"
Perhaps finally take that next fishing, hunting or hiking trip like you've been meaning to?
Start a new hobby or remodeling project?
Give your garden the TLC it needs?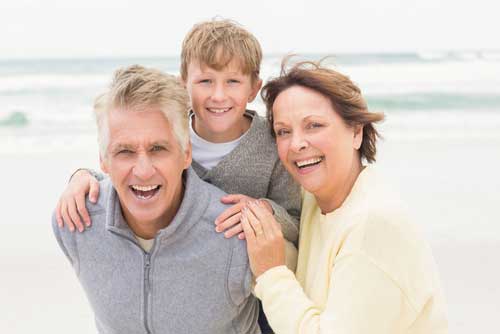 Impress your friends with how energetic you are… and how young you look?
Say "Yes!" to every invitation that comes your way?
Call up your kids and tell them, "Yes! Bring the grandkids over!" Or maybe drive over to surprise them instead?
Whatever your plans, you'll smile and chuckle as you realize…
You've gone from hurting to having
fun again!
RenewGen is different from anything else you've tried. It's better… stronger… and it works in a whole new way.
But you don't have to take my word for it. Just listen to what others who have already tried this special formula are saying: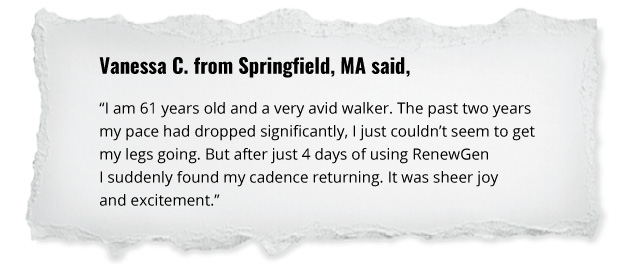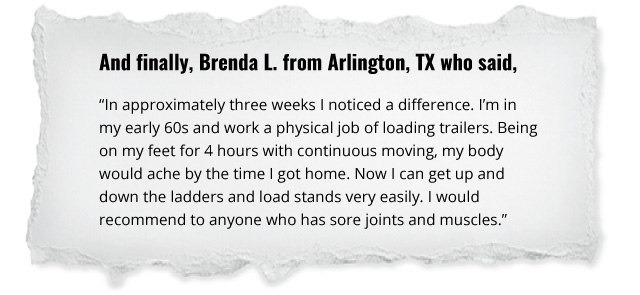 Now's your time to try our special formula and experience a transformation just as amazing.
I'm so confident this formula is going to work magic on your joints, I want you to try RenewGen with ZERO risk.
That's right… you have an unlimited guarantee when you try RenewGen today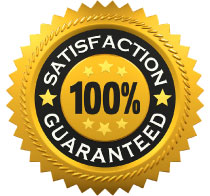 Here's how it works:
Place an order for RenewGen today. You'll be shocked at how reasonable it is.
Then, when your supply arrives in a week or so, open it immediately.
Follow the instructions and start taking RenewGen daily.
Feel how it revitalizes your joints from the inside out.
Marvel at how it literally regrows cartilage in your knees, hips, lower back, shoulders, elbows and hands.
You'll be amazed at how much better you feel. How much younger… how much happier.
But if, for any reason, you aren't 100% satisfied with the way you look and feel, simply give us a call and we'll give you back every penny, no questions asked.
Let me repeat that… for any reason at all, simply request a refund and we'll be happy to oblige.
And your guarantee NEVER expires. You can request a refund anytime in the future — it could be six months from now… a year… or even two!
This way, there's no pressure… and no risk… when you try RenewGen today.
So let's do this: Fill out your shipping information on the next page.
Once you do, we'll begin packing your shipment of RenewGen and then we'll rush it your way.
Just a few short days from now, you'll receive a plain, brown box from USPS.
The return address will say "Gold Leaf Nutritionals".
Carefully packed inside will be your initial supply of RenewGen.
I recommend you immediately bring your RenewGen supply into your kitchen, open it up…
…and use the included scoop to measure your first dose into a glass of water or beverage of your choice.
As you drink, you'll quickly realize how it's virtually tasteless, even in plain water.
Within just 60 minutes, the miraculous
nutrient formula in RenewGen will
start working
its magic…
It will begin to regrow your cartilage from the inside out — and wash your aches and pains away.
As time goes on, you'll feel like you've been given a brand-new body… and a brand-new lease on life.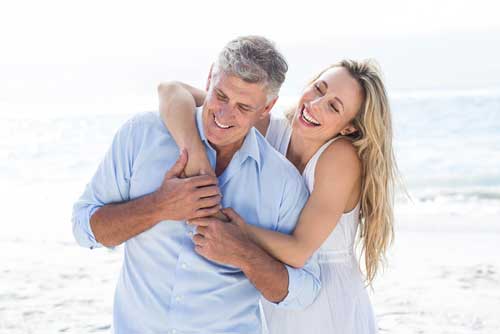 You'll wonder "How did I ever go a single day without RenewGen?"
And that's an important question… so we want to make sure your joints are never starving for the joint-supporting power of RenewGen.
Because if you stop taking RenewGen, there's a very real chance all your most frustrating aches and pains could come roaring back. We don't want that – we want your joints to feel fantastic. PERIOD.
So, today, through this special offer, we're giving you free access to our Priority Pass program.
That means, whenever you're about to run out of RenewGen, we'll ship you out a fresh supply and bill the credit card you use today.
In addition, you lock in today's special low price. And we'll even pick up the shipping cost.
That's right… you get FREE shipping on today's order and all future Priority Pass shipments of RenewGen.
Of course, you can cancel or change this program at any time just by calling our friendly team.
No hassle and complete convenience. That's how we do business.
You take no risk at all. Your satisfaction is ALWAYS guaranteed.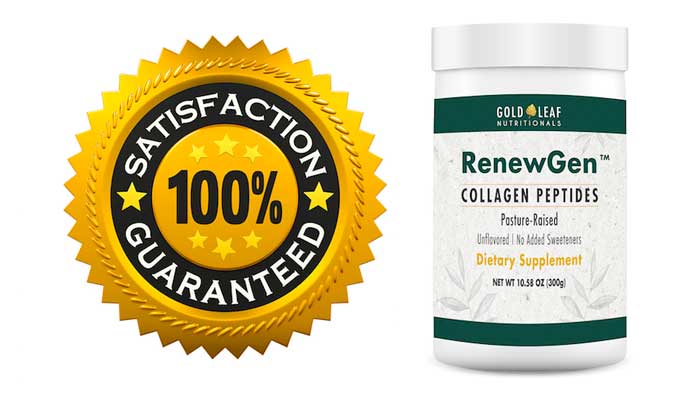 So if you're ready for joints that are smooth, comfortable and feel like a much younger version… go ahead and click the button below now.
It will take you to our secure order form, where you can select your initial supply of RenewGen. You'll also find a way you can save a bunch of money… and get FREE shipping.
But do click the now. I'll see you on the other side…
For RenewGen and Gold Leaf Nutritionals, I'm Rachel Roane.
Click the button below to get your risk-free supply of RenewGen
(You Can Review Your Order Before it's Final)